Recurring Cleaning
Safe, Professional, Thorough
Whether you need weekly, biweekly or monthly service our professional cleaning team will make your house spotless
Enjoy Free Oven, Fridge, and Window Cleaning Each Year
Maximize your cleaning benefits when you become a weekly or biweekly Capella Cleaning customer. It's easy to neglect those out of sight, out of reach, and hard to clean places. We offer free oven, fridge, and window cleaning once a year exclusively to our loyal weekly and biweekly customers! We'll make sure that these spaces get the professional deep clean that they deserve.
Weekly Cleaning Service
Ideal for busy families balancing work, babies, and pets. Keep a clean house effortlessly with professional help and weekly routine cleaning!
–
–
Biweekly Cleaning Service
Perfect for empty nesters and single bachelors, biweekly cleaning services provide the professional deep clean you need to upkeep a spotless home.
–
–
Monthly Cleaning Services
Always away? For the executive jet setter that travels often and has a crazy schedule, monthly routine cleaning is the perfect solution. Enjoy the consistency of coming home to a pristine space!
Making a Difference With Superior Cleaning
Stop rushing to pick up the house before the cleaners arrive. Professional cleaning should reduce your stress, not increase it! When our cleaning team arrives they'll always take care of all the precleaning first- picking up toys, books, and clothes. We consider this full benefits cleaning, and unlike other companies, we never skip this step. After deep cleaning your home from the ceilings to the baseboards, our detail-oriented staff will neatly organize the items. Never settle for less than the full cleaning benefits that you deserve! At Capella Cleaning, we believe life is too short to clean your own home!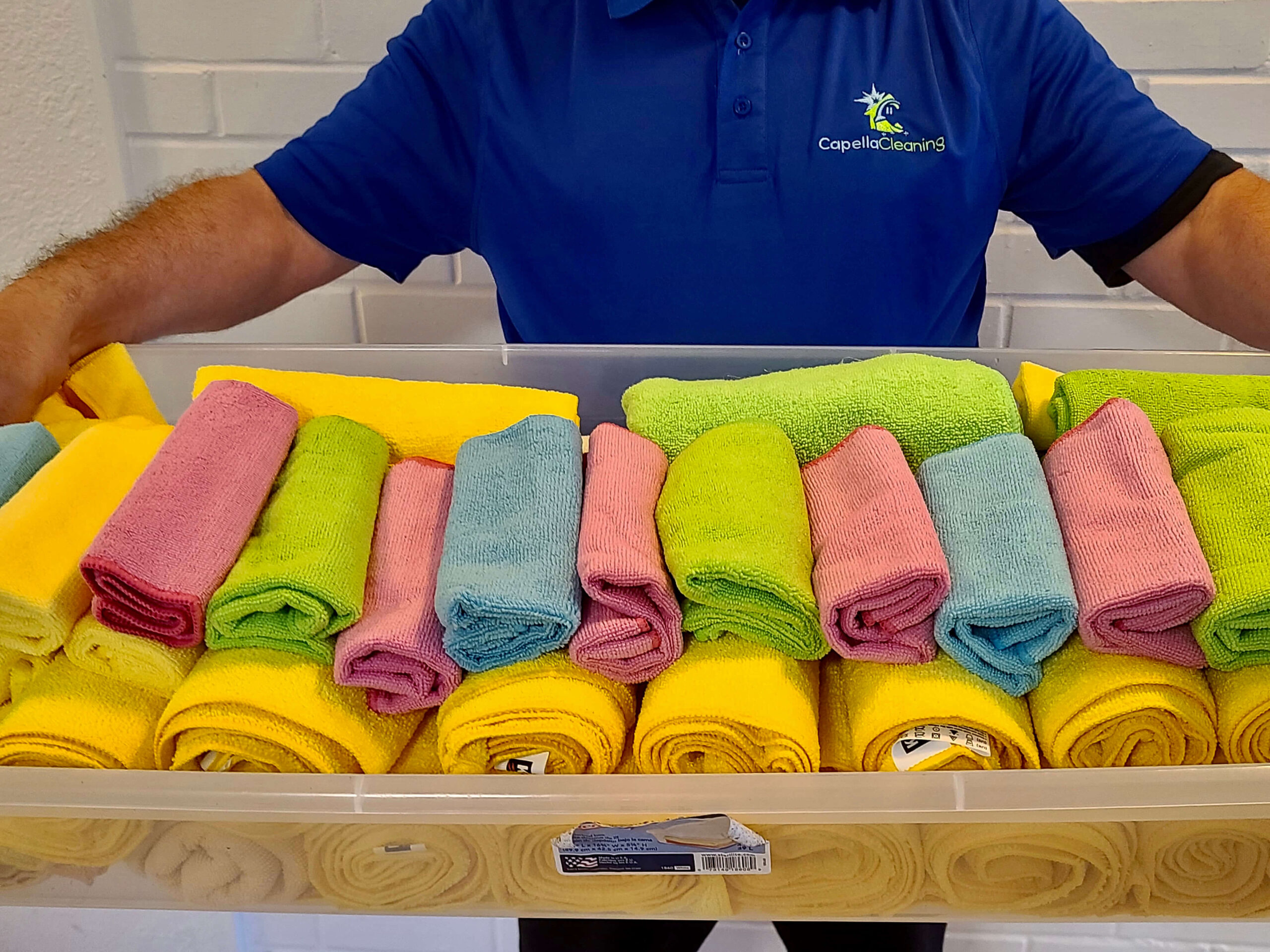 Every Time We Clean
1. Light Fixtures, blinds
2. Tubs, Showers, toilet
3. Mirror and Vanity
4. Sink and Faucet
5. Baseboards and Doors
6. Empty trash
7. Floors
1. Cabinets fronts
2. Countertops, light fixtures, blinds
3. Stovetop and hood
4. Refrigerator, dishwasher fronts
5. Microwave inside and out
6. Sink, faucet, backsplash
7. Floors
1. Dust ceiling corners, light fixtures
2. Dust all furniture
3. Clean mirrors
4. Dust blinds, window sills
5. Make beds ( 2 sets of sheets)
6. Dust baseboards, spot clean doors
7. Floors
1. Ceiling corners, light fixtures
2. Dust baseboards,
3. Spot clean doors
4. Dust all furniture
5. Wall décor and knickknacks
6. Vacuum upholstered furniture
7. Floors
Committed to Safety During COVID-19
Professional residential cleaning can help keep your home clean and safe during the Coronavirus pandemic. Capella Cleaning is going above and beyond to make safety our first priority. We stop cross-contamination by taking the following measures:
Staff wear facemasks, shoe covers, and disposable gloves at all times.
Disposable dusters and other cleaning materials are used only once.
Cleaning equipment such as vacuum and mop are thoroughly disinfected between houses.
Rest assured, we are taking every professional precaution possible to make our services safe during COVID-19!
Our 10 point Disinfection
(disinfection included in every cleaning):
Counters (we sanitize counters)
Always on Time
Professional and friendly service, on-time all the time.
High Standard of Cleaning
Receive a professional deep clean all the time.
Fast Service
Expect the same friendly team for every cleaning service.
Safety First
We use only EWG products and green cleaning methods.