One Time Cleaning
Caring For All Your One-time
Cleaning Needs
Even homeowners who love to clean need a hand from the professionals sometimes! When you are in charge of organizing a big event to hold at your home or preparing to host family for a special occasion, your time and attention are devoted to more important things and there's no time left over for cleaning.
Focus on your upcoming event, let us take care of the cleaning!
One-time professional cleaning is ideal for the following:
Preparing and organizing your home for family gatherings
Hosting and impressing your visiting out of town relatives
Seasonal cleaning to make your home spotless for holiday parties
Welcoming a new baby home to a safe and clean space
Hosting a celebration such a baby shower or wedding shower
Hosting a birthday or graduation party
Spotless Professional Cleaning For Your Special Occasion
We will clean your home and prepare it for your special occasion with Attitude cleaning products, rated grade A by Environmental Working Group (EWG). These eco-friendly products are safe for children and pets, so you can relax and feel confident that all your guests will enjoy your healthy and clean space!
We offer two packages for one-time cleaning and both will make your house look outstanding! Choose from:
Standard Cleaning: Cost-effective dust cleaning that is ideal for quick cleanups. Covers all main areas of the home, from baseboards to ceiling fans, following a 28-point checklist.
Deep Cleaning: Comprehensive cleaning of all surfaces on the 28-point checklist, complete with hand wiping to sanitize your space. Plus, cleaning of neglected places like the fridge, oven, and interior windows!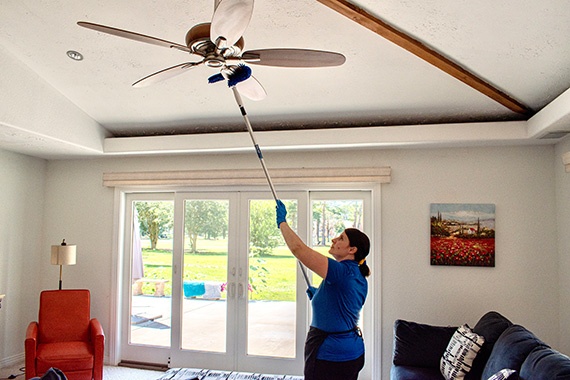 We Clean
1. Light Fixtures, blinds
2. Tubs, Showers, toilet
3. Mirror and Vanity
4. Sink and Faucet
5. Baseboards and Doors
6. Empty trash
7. Floors
1. Cabinets fronts
2. Countertops, light fixtures, blinds
3. Stovetop and hood
4. Refrigerator, dishwasher fronts
5. Microwave inside and out
6. Sink, faucet, backsplash
7. Floors
1. Dust ceiling corners, light fixtures
2. Dust all furniture
3. Clean mirrors
4. Dust blinds, window sills
5. Make beds ( 2 sets of sheets)
6. Dust baseboards, spot clean doors
7. Floors
1. Ceiling corners, light fixtures
2. Dust baseboards,
3. Spot clean doors
4. Dust all furniture
5. Wall décor and knickknacks
6. Vacuum upholstered furniture
7. Floors
Point Checklist for One-time Standard Cleaning Perfection:
Dust Baseboards. Spot Clean Doors
Dust All Wall Decorations
Making Beds (Two Pairs Only)
Bathroom Cabinets Clean (Exterior Only)
Bathrooms Baseboards Clean
Bathrooms Door Spot Clean
Clean All Surfaces in the Kitchen
Stainless Steel Appliances Clean & Polish
Spot Clean Kitchen Cabinets
The main difference between the two packages is the process. Standard cleaning involves dusting of all surfaces, while deep cleaning is hand wiping of surfaces like doors, ceiling fans, baseboards. In addition, the fridge, oven, and interior windows are cleaned as a part of the one-time deep cleaning package.
When do you need a one-time deep clean package? Deep cleaning is ideal when:
You are unable to clean your house for more than a month's time
You have two or more pets and are busy with work obligations
You have an upcoming party and need a clean oven and fridge for safely cooking and storing food
Your property has been empty for more than a month's time
Our checklist for One-time deep cleaning includes everything in Standard Cleaning PLUS:
Kitchen Cabinet Cleaning Outside Only
Hand Wipe Ceiling Fans (if we can reach with two-step ladder)
Hand Wipe All Doors & Window Sills
Deep cleaning is a lengthy process that involves more steps, tasks, and attention to detail. Although it is more expensive, one-time deep cleaning will restore your home to a level of clean that requires only minimal everyday maintenance. It is a thorough cleaning at the highest standard that will last you a long time!